Feature Timber Floors Perth
People are starting to embrace Feature Timber Floors in Perth. They are moving away from the more uniform look of standard grade timber. Why? What is driving this demand in Feature Timber Floorboards? They are usually cheaper then other floorboards and were considered less desirable not so long ago. Epoxy filling has changed all that. Feature Timber Floors are now becoming stand out features in homes around Perth. Read on to find out more.

What are the characteristics of Feature Timber Floors in Perth?
What is the difference between Standard (plus) timber floorboards and Feature timber floors? It comes down to the names. As the names suggest, Feature timber floorboards have more "features" within the floorboards themselves. These features can be gum veins, knots, insect travel holes etc. Standard grade timber floorboards will include a little bit of feature, due to coming from a natural product, this is inevitable. However, the feature timber floorboards are graded as having significantly more feature in them.  
Why is there increasing demand for Feature Timber Floors in Perth?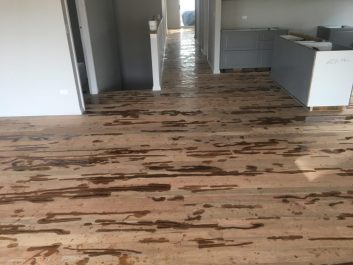 Epoxy filling is turning the features in floorboards into the WOW factor in many homes. If there is a lot of feature in the timber floors, it is epoxy filled at the very start. This clear resin is tacky when first applied but dries overnight to create a hard, clear surface over the gum veins, knots or insect holes. The result is you are able to "see into" the timber floorboard. The inside, jagged edges of the features are visible while your floor still remains perfectly smooth to walk on. The effect can be stunning.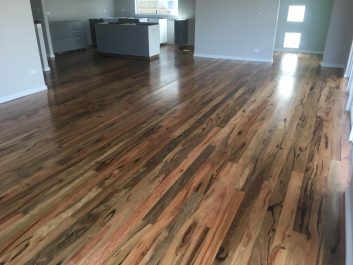 Which timber floorboards have feature grade timber?
Marri timber is renowned for it's breathtaking features. However, most timber can be brought in  feature grade. This includes Blackbutt and Jarrah. The floorboards are from a natural product, trees which have grown in different parts of the forest. Consequently, certain trees will have exposure to different events that can cause more feature to be present. The tree might have had more insect activity within it or been subject to fire damage. Fire damage can cause increased gum veins, as the tree uses these as a way to repair itself.
Be mindful that feature timber floorboards can be "busy" so be sure to check out samples to see if it is right for your living area. However, if you love the idea of natural timber and see the imperfections as eye-catching, then feature timber might be for you. Be sure to ring Mark on 0406 427 477 for an obligation free consultation about what grade timber will best suit your timber flooring needs.