Timber Floor Sanding Perth
When is it time to re-sand a timber floor? What conditions have to be met before a floor can be re-sanded? New Age Timber Floors re-sands hundreds of Perth floors a year. We are asked to re-sand timber floors for a wide variety of reasons. If a floor has had water damage, due to environmental or plumbing issues, we may re-sand the floor. Damage to the coat, be it scratches or dents, can cause clients to contact us to re-sand their floor. General wear and tear of the floorboards in high traffic areas, may mean they start to look dull or tarnished and home owners want to give them a facelift. Alternatively, we may be asked to change the look of the floorboards completely by staining them a different colour. To do this we would re-sand the floorboards and stain it to the customer's desired colour choice.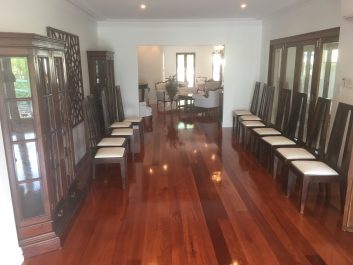 Timber Floor Sanding Perth – Re-sand Checklist
Whether it is for necessity or to refresh the look of our customer's house, there are a couple of factors that need to be satisfied before New Age Timber Floors can re-sand floors.
1. Are the floorboards dry? After a water event, whether that be caused by rain, flooding from pipes or other events, before we re-sand your floors we need to ensure the floorboards are dry. This is done by moisture testing the floor. We need to ensure the timber is dry, so that no future cupping, due to excess moisture occurs. 
2. How many times have your floorboards been re-sanded? Most floorboards are 12-19mm thick. An average floor of this thickness, can usually be sanded 4-5 times. When a re-sand is required we need to ensure that we will not sand through the existing floorboards. If we believe, there is not enough timber left to re-sand, we will suggest the floorboards be replaced.
3. Clear direction about what the customer wants from their re-sand. Consequently, Mark at New Age Timber Floors will spend time talking with you, to work out why you want your re-sand. Is it for a general aesthetic makeover or do you want to change your floorboards look? Can this facelift be achieved through a different coat or do you want the floorboards stained to a different colour. Some coats don't sit well on each other, so Mark will be able to assist and let you know whether what you are after is plausible and what other options you have.