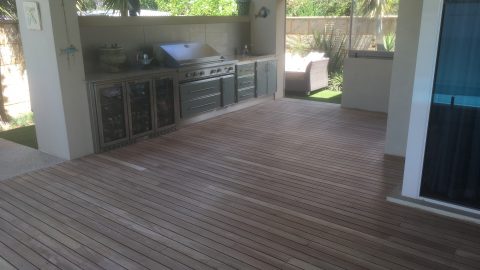 Sanding and Oiling Decks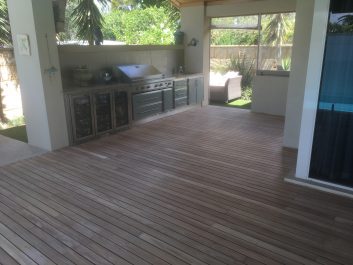 It's not just your internal timber floors that New Age Timber Floors restore. Sanding and Oiling Decks make up a lot of the jobs we get over the summer months. The sunnier months, October – March, are the perfect time to give your decking a new lease of life. To ensure we can provide the perfect finish, we need good weather so it doesn't rain on your deck while we are finishing it off or it is drying.
A re-sanded and oiled deck can bring the WOW factor to your back yard. In Perth we love a barbecue. Having your deck restored, gives you the perfect spot to host and entertain your friends and family. Maintaining your deck has other advantages too. 
Deck Maintenance
Your deck should be oiled every 6-18 mths depending on the oil that you use. There is water and non-water based oil. When oiling your deck, the oil seeps deep into the timber and helps protect it from water damage. Some oils even have UV blockers which can help reduce sun damage to the deck. Regular oiling keeps your deck in good condition and helps slow down the wear and tear of being out in Perth's elements. Oiling a deck usually doesn't change the colour of the timber but can darken it somewhat. 
You may also decide to stain your deck. Just like timber floors inside the house, timber decking can be stained to alter the colour of the timber. Staining, however, will not protect your timber from the elements. It is an aesthetic change that can transform your backyard, but maintenance will still be needed to ensure the deck is kept in good condition.
In relation to re-sanding decks, as the owner, you will generally know when a deck need to be re-sanded. This may have to be sooner then internal timber floors, due to it being subjected to rain and sun directly. If you are noticing your decking warping, cupping or just generally starting to look a bit shabby, give Mark a call on 0406 427 477. New Age Timber Floors can give your deck a facelift and restore it to its former glory. After we've finished you'll be putting some snaggas on the barbie in no time.