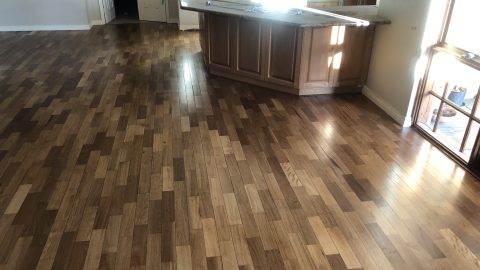 Tallow Wood Floors Perth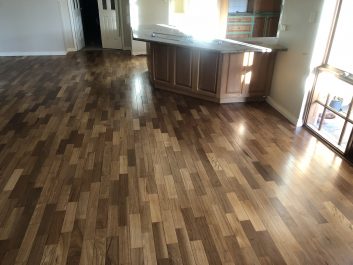 Tallowwood Features
This wood grows in the wet sclerophyll forests of New South Wales and Queensland. It has a unique look as unlike most other timbers, it does not have gum veins throughout the timber. Consequently, it can provide a "cleaner" and more consistent looking floor. This is due to the eye not being drawn to distinctive gum vein features. The Tallowwood colour is usually a yellowish brown and may even have a tinge of olive green. The colour is usually consistent, however pale sapwood may be visible at times. Overall, the Tallowwood colour is extremely rich.
Tallowwood's botanical name is "Eucalyptus Microcorys". It has a Janka hardness ranking of 8.6kn. This is a "hard", high density timber. Compared to other Australian hardwoods, that often rank over 12kn and higher, it is not the hardest timber that you can get. 
It is important to have this wood sanded and polished by a professional. The reason for this is that this wood has a lot more naturally occurring tannins and natural oils. Consequently, correct coating techniques and products should be used to get the best result for this timber. New Age Timber Floors have many years of experiencing sanding and coating Tallowwood floors and can ensure that your floor shines as it should.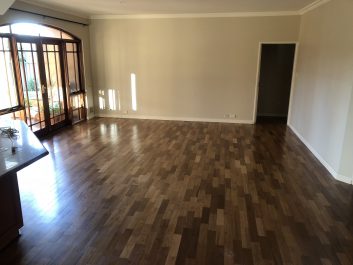 Wood Floors Perth
The Tallowwood floor above is a parquetry floor. A solvent based, semi-gloss coat was used on this floor. With over 20 years experience, contact New Age Timber Floors for an obligation free consultation. Therefore, if you want us to install, sand and/or polish your wood floors, we can help. We service the entire Perth Metropolitan and surrounding regional areas.  Mark prides himself on his attention to detail, his reliable and professional service and customer satisfaction. For more information on the details above, call now on 0406 427 477 or email at mark@newagetimberfloors.com.au to arrange a consultation.