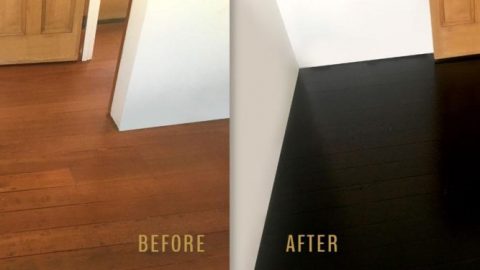 Timber Floor Sanding Perth
New Age Timber Floors has been floor sanding Perth floors for over 20 years. We work around the Perth Metropolitan area and surrounding regional areas. During this time we have sanded a lot of floors, with all different types of timber and different finishes. In this blog we are showcasing some of the floors that have really stood out, for differing reasons. This is a chance to compare different timbers and finishes. It might provide the inspiration you need when deciding which timber will best suit your home and the finish you want. Like all home decor choices, timber floorboards come down to a personal aesthetic. Although we have been floor sanding in Perth for a long time, in the end your tastes will determine what style you want. Our industry knowledge can help you achieve your desired look. Have a look through some of our stand out floors of the last 6 months. 
Floor Sanding – Stand Out Floor (No 1 Marri Staircase)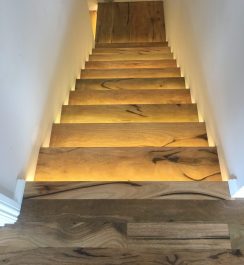 This Marri timber staircase is simply stunning. The lighting is so effective in accentuating the natural features in the timber. Marri timber floors are usually epoxy filled as they are renowned for their gum vein features. If you love natural wood, Marri timber is a great choice to create that WOW factor in your home. Whenever we look at Marri timber floors, they really give that sense of the outdoors, of the natural world. Whilst giving this "natural" look it also retains a classy polished appearance. This is one of our favourites over the last 6 months whilst floor sanding around Perth.
Floor Sanding – Stand Out Floor (No 2 Black Stained Jarrah)

The owners of this house wanted their old, red jarrah floors stained black. After sanding the floors, we stained them and then applied a matt finish. This is one of our favourite floors over the lat 6 months as it is such a radical change to how it was before. We love the natural look of Jarrah but adding a black stain, certainly creates an impression. With the right decor, the black floor would be amazing. That's one of the things we love about floor sanding, is that there are so many different looks you can create with timber. Thinking outside the box can give you a unique floor to perfectly compliment your lifestyle and home. 
Floor Sanding – Stand Out Floor (No 3 Rosegum timber)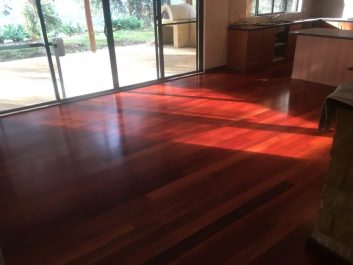 The gorgeous pink/rose tones highlighted by the sun in the picture above, makes this floor our number 3 pick. We would describe this as a pretty traditional timber floor but that warm rose colour just takes it to another level. There is no really evident feature (ie. gum veins etc) in the timber of this picture which is a stark contrast to the Marri in our number 1 pick. However, when you have such a strong colour in the timber, such as the rose gum, simplicity is sometimes the best way to let the natural timber colour stand out. 
So those our stand out Timber floors for the last 6 months. Each has their different characteristics and very different aesthetic appeal. All, however, are gorgeous in their own right. We hope this inspires you and helps in your decision for your timber floors. Remember to contact Mark on 0406 427 477 for an obligation free quote/ consultation for your timber floor needs.