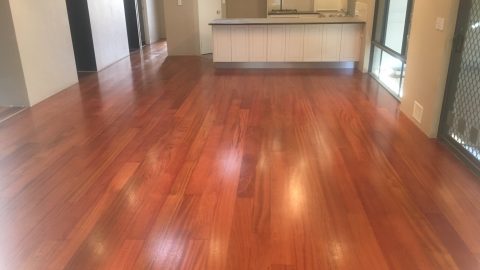 Kempas – Feature timber floorboard
The last feature timber floorboard for 2017 is here. Kempas timber is a little different to the usual timber that we sand. It has a reputation for being a difficult timber to work with. This is due to it's density and interlocking grain. It is a slightly acidic wood that can be corrosive to metal if not treated properly. Cutting Kempas timber can also be difficult due to the consistency of the wood and it's tendency to have brittle areas within the wood. Although difficult, it can be a stunning inclusion to your home. It is highly recommended that you have an experienced company, like New Age Timber Floors, lay and sand your Kempas floorboards. The Kempas timber floorboards below were finished with a water based, semi gloss finish.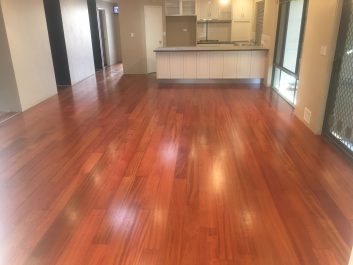 Characteristics of a Kempas timber floorboard
Has a unique Orange – reddish brown colouring
The grain is interlocked and can be wavy
This timber is sourced from Malaysia and Indonesia
It has a medium hardness of 7.6kn (Janka rating)
Generally accepts staining and coating well
Kempas beautiful orange hue is a unique feature of this timber. Don't let it's difficult reputation put you off as flooring is a great use for Kempas timber. Before deciding on the perfect timber floorboard for your home, ask to see a sample of the timber with a similar finish to what you are going to get. Kempas' unique colour may compliment your home perfectly. Consequently, if Kempas timber interests you, make sure you contact Mark on 0406 427 477. New Age Timber Floors will provide you with an obligation free quote or consultation about your Kempas timber floorboards.